Rep. Masin Candidate Statement on Eagan-TV
Posted on 5 October 2018
Eagan-TV recorded the following statement from Rep. Sandra Masin:




 
Rep. Masin is Endorsed by Minnesota AFL-CIO
Posted on 8 July 2018
Rep. Masin released this statement:
I am extremely proud to have received the Minnesota AFL-CIO Committee on Political Education (COPE) endorsement

This organization represents over 300.000 people. The mission of the AFL-CIO is to improve the lives of working families - to bring economic justice to the workplace and social justice to our state and the nation. That mission sounds appropriate for the role of government as well. Given the fact that we have a huge income disparity in this country, we need all the help we can muster to address this inequity and achieve parity and stability.

I deeply appreciate all the work done by the members of the Minnesota AFL-CIO and their confidence in me to represent working families. I believe that the strong middle-class in this country is the reason this country has enjoyed the stability and economic success for so long and I want that success to continue.
We are grateful to the MN AFL-CIO for their strong support. 
Rep. Masin Receives Teamsters Endorsement
Posted on 1 July 2018
Rep. Masin received the endorsement of the Teamsters and issued the following statement in gratitude:
I am extremely proud to have received the endorsement from the Teamsters Joint Council 32 DRIVE. The Teamsters fight for fair wages, decent working conditions, good benefits and dignity in retirement. These goals are so important, particularly when we are dealing with a huge income disparity in our country and attacks on our safety nets at the national and state levels.

My sincere appreciation to the members of Joint Council 32 DRIVE for the work they do to help workers and our communities. I am most grateful for their support and confidence in me.
Meeting with Mr. Khizr Khan
Posted on 28 June 2018
On June 25 Sandy Masin had an opportunity to talk with Mr. Khizr Khan while he was in Minnesota. She posted the following reaction:
... Mr. Khan's words were inspiring, energizing, and moving. He urged us all to take action in support of worthy candidates who will uphold humanist values. It was a pleasure to hear Mr. Khan's speech and an honor to meet this amazing man in person!

Their faces tell their mutual enjoyment in the meeting. 
DFL Senate District 51 Convention Endorses Rep. Sandra Masin!
Posted on 11 March 2018
The DFL Senate District 51 Convention was held on Saturday, March 10.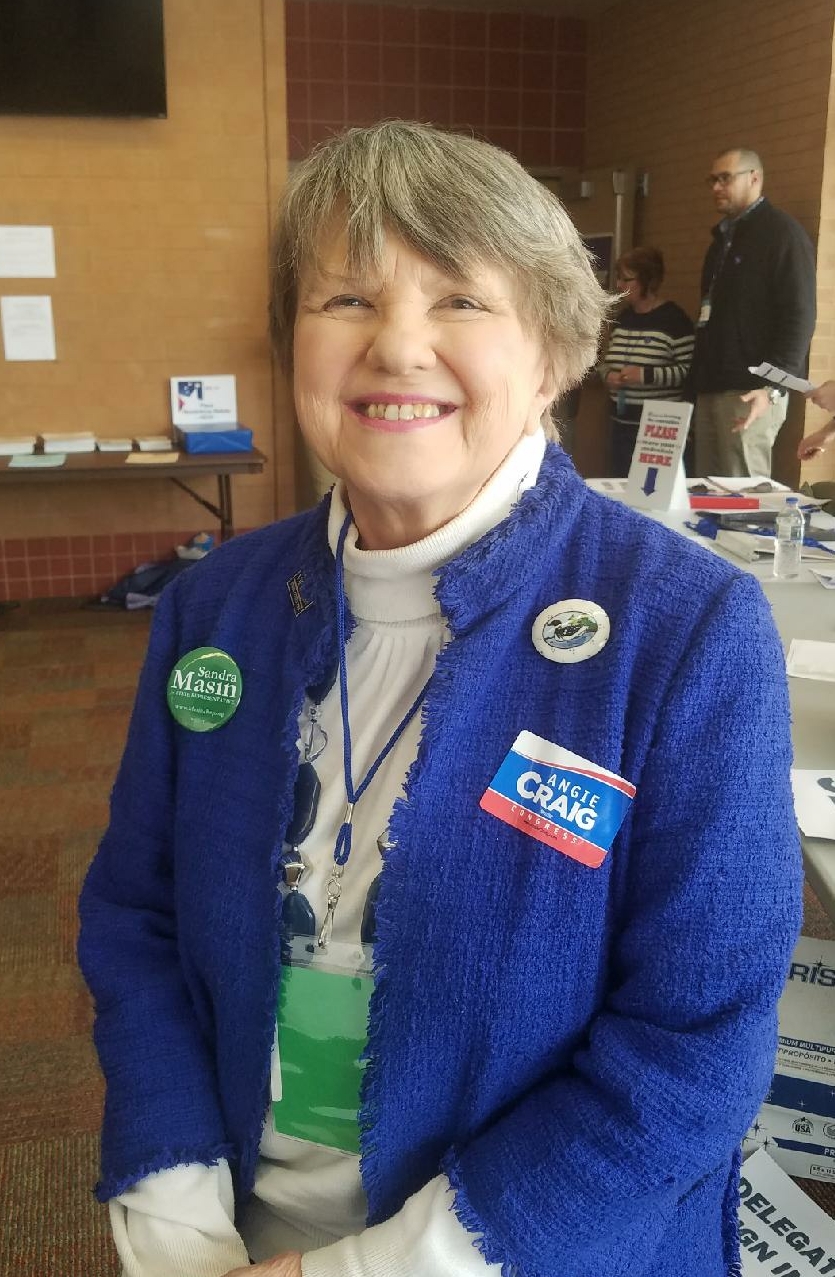 Included in the day's work was electing new party officers, delegates to the upcoming congressional district and state conventions, and voting on resolutions.

I am particularly grateful to be endorsed by the delegates from House District 51A to be their candidate in the 2018 Election. It is an honor to have their confidence and support!

My appreciation to all who participated in this event. This is democracy in action.
 
Rep. Masin Interview on Access to Democracy
Posted on 11 February 2018
Rep. Masin was interviewed on Access to Democracy program. You can watch the program on Eagan-TV Channel 15 as well as by clicking below:



 
EQUAL MEANS EQUAL
Posted on 29 August 2017
A screening of EQUAL MEANS EQUAL was held at the Humphrey School on Saturday evening to observe Women's Equality Day. It illustrated the many injustices that confront women and the importance of passing the Equal Rights Amendment.

It also mentioned that on the international level, only seven countries have not ratified the Convention on the Elimination of All Forms of Discrimination Against Women (CEDAW). Unfortunately, the United States is one of them.

It is time for action. For more information, go to www.equalmeansequal.com